Stationery that takes you out of this world
Petite: small, compact Lemposa: shift in the atmosphere
Petite Lemposa: small things creating big moments
Gorgeous and creative wedding event stationery elevates your wedding styling and design. Your wedding day will be a cascade of significant moments that celebrates your love and delights your guests. Our collections are designed to enhance grand entrances, seating and menu selection moments, while reinforcing your themes and guiding your guests seamlessly.
Created by talented designers who are experienced professionals in the wedding industry, our curated looks push the boundaries on the latest trends and deliver stunning options that are customisable for your needs. Designed to pair beautifully with venues, tableware and botanicals, our welcome signs, seating plans and menu boards will enhance any space.
Shop Collection
Fleur
Fleur's playful curves and hand-drawn elements carry a young and vibrant spirit to any event, evoking sunshine on a spring day. Out-of-the-box design and crisp die-cuts make the Fleur range oh-so-easy to fall in love with.

This range lends itself to fun informal wording, and will draw your guests warmly into your celebration. An easy pairing with a relaxed venue, or juxtapose it with classy elegance for a fun twist.

Shop Collection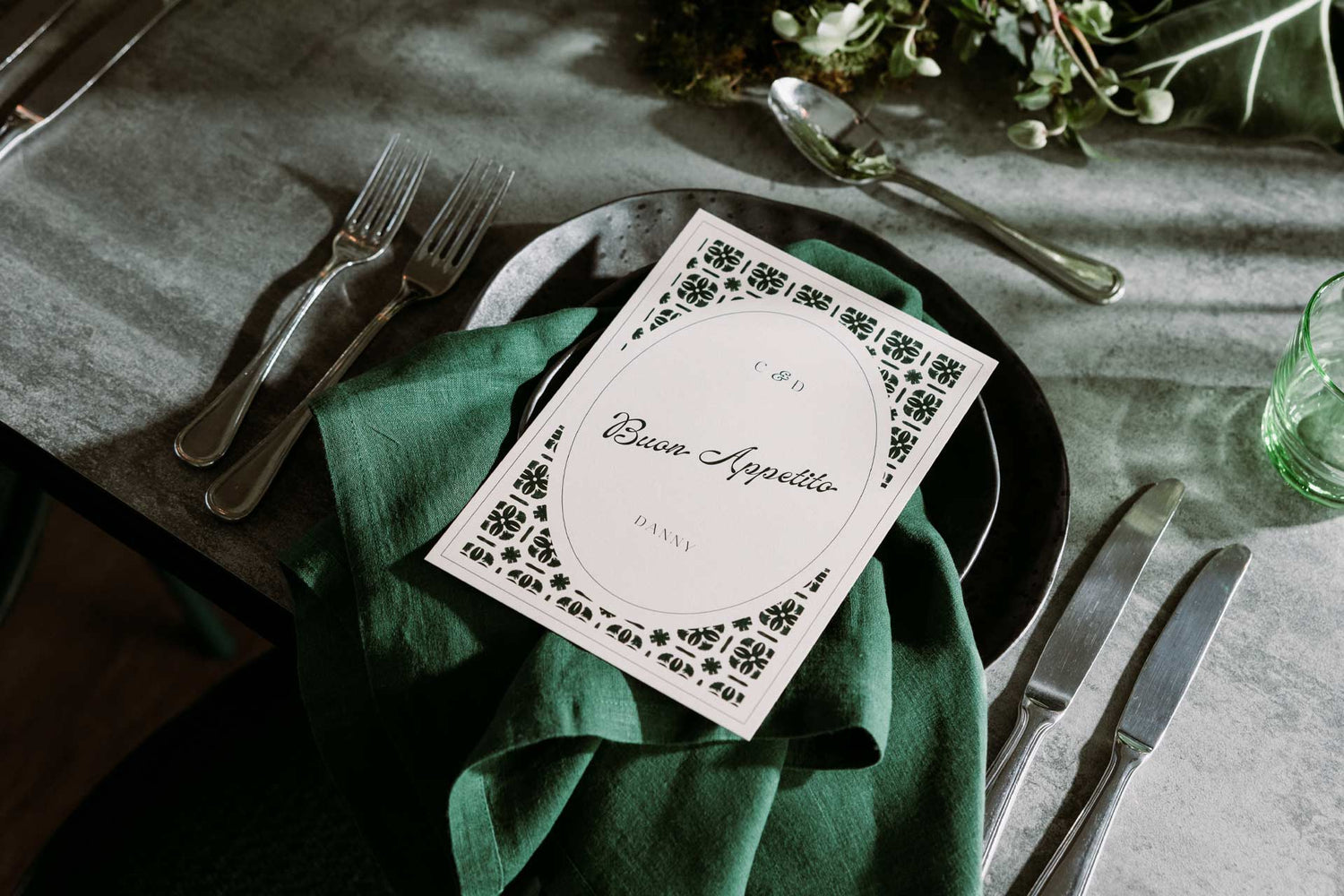 Seraphina
We're excited to present the Seraphina collection. This beautiful design blends a strong Moroccan-inspired tile design with simple elements for a bold yet elegant finish. This range hints at depth and cultural richness, calling to mind sumptuous fabrics and cool stone archways.

Equally at home bringing a grounded look to romantic settings, or elevating classical venues, the Seraphina range is an evergreen favorite for timeless elegance.

Shop Collection
Valarie
We love the Valarie collection for its up-to-the-minute sensibilities and bold-as-brass energy. Combining strong contrasts, vibrant colours, bold typography, and modern design elements, this range brings the best of contemporary aesthetics.

No retiring wallflower, Valarie is bossy, bold and loves the attention. Set the tone for an unforgettable occasion and create a dramatic impression with the Valarie range.

Shop Collection
Monarque
The Monarque collection commands attention with powerful design elements and lush colourways. Bringing a unique aesthetic with regal-inspired graphics, this collection combines the graphic elements with matchless structures and handwritten typography.

Add a touch of the aristocracy and launch your event with the strong presence of the Monarque collection.
Shop Collection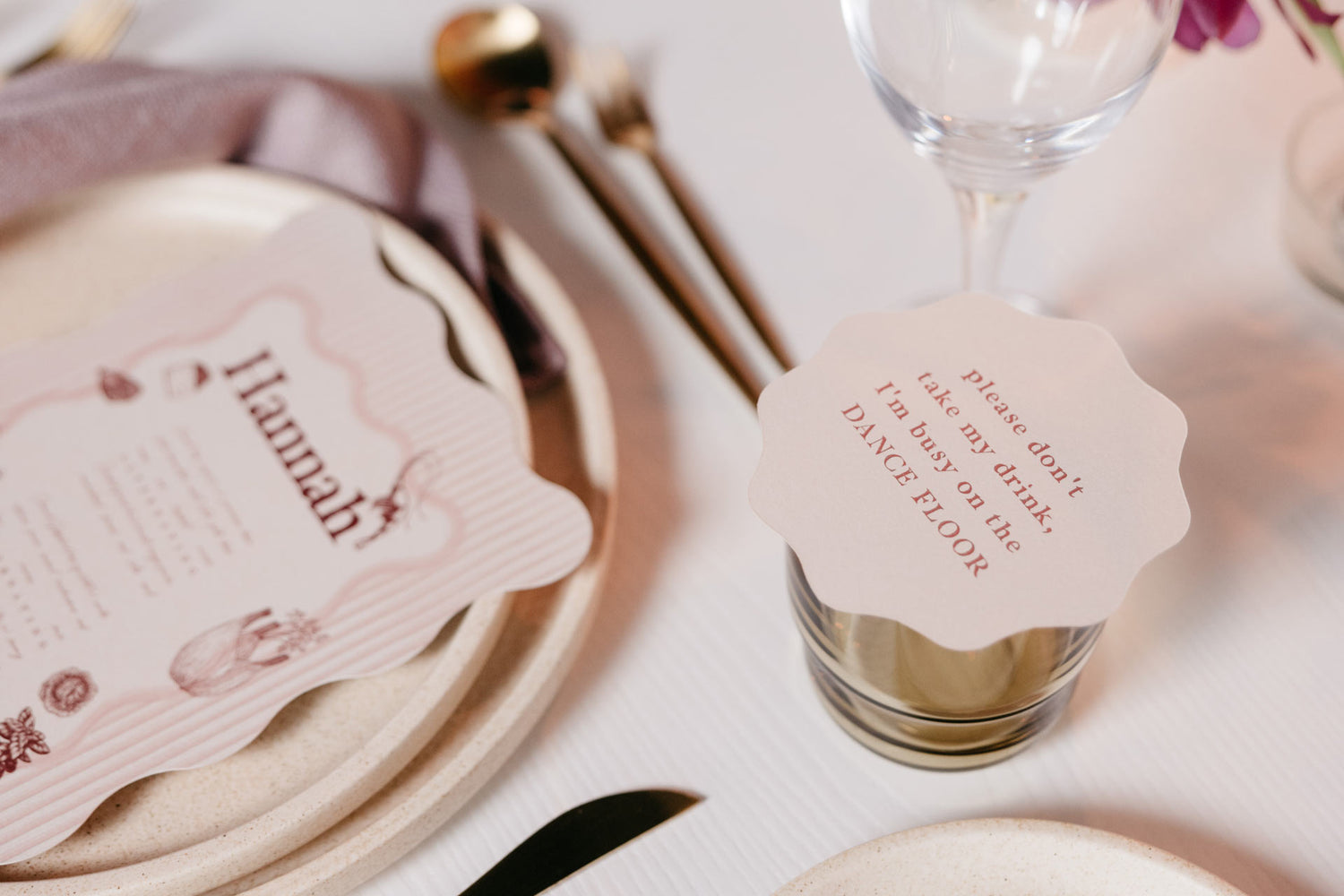 Isla
The Isla collection is all about a soft, subtle, and gentle aesthetic. Warm, wavy and lending itself to feminine colorways, the Isla collection brings a sense of romance to any table and venue decor.

Pair with romantic botanicals and tableware to heighten the mood of a passionate tryst, or allow the strong structures of the Isla range to create a feeling of warmth and togetherness. This range is perfect for events that celebrate love, family, and special connections.
Shop Collection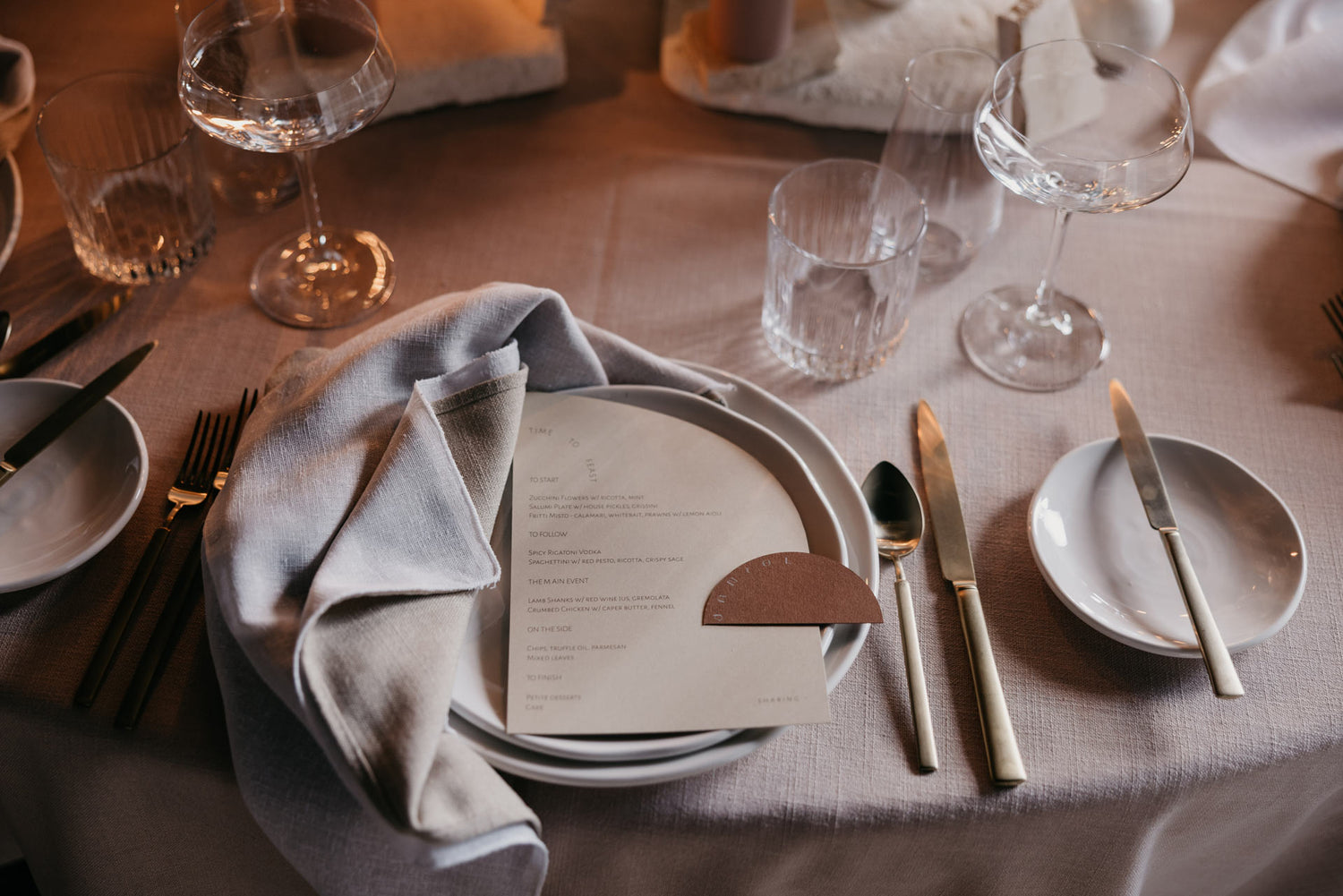 Hazel
Think of autumn's textured beauty and you'll get a sense of the Hazel collection's immersive aesthetic. The organic shapes and curved designs add instant appeal, warmly inviting your guests to the table. With natural elements and warm tones, this range brings a sense of coziness and tactile appeal to your tablescape.

Easily bring the Hazel collection to intimate gatherings, or allow its effortless elegance to enhance formal affairs.
Shop Collection
Filomena
The Filomena collection is endlessly sophisticated and designed for the couple who wants to bring a classical flamboyance to their event. With intricate details and artistic lines, the Filomena range is a true show-stopper. Fabric tassels and bold colourways evoke an ethereal style, while classic brilliance allows Filomena to take its place at even the most formal table.

Elevate your event with the passionate aesthetic and designer styling of the Filomena collection.
Shop Collection
Welcome your guests to the table with Petite Lemposa wedding signage specialists.
We exist to provide exquisite signage and stationery for your wedding event. Our collections mix cohesively with other on-trend wedding decor elements to make your look absolutely sublime.
We are wedding enthusiasts, with years of experience working as wedding planners and wedding stylists under our belt. Each member of our team brings a unique styling and design background to the table, and together we're only satisfied when your Petite Lemposa delivery causes you to dance, or possibly let out a lil scream of delight. We don't mind which!
Our compiled collections and options are carefully prepared to help you plan your wedding event with a bold, confident style that represents you perfectly as a couple. And if you need further guidance on products to make your day pop, you can reach out to our team for additional ideas.
Shop Collection
Order Process
At Petite Lemposa we know you value individual choices just as highly as you value style directions from the best designers in the business. That's why we have developed our ordering process so you can have the best of both worlds.

Our gorgeously designed collections come with colour, shape and typography options for you to customise your preferences and create a design that is wholly your own.

There is no couple like you in all the world. Customise your wedding event stationery to reflect your relationship perfectly.
Need help? Please complete the form below, or email us at hello@petitelemposa.com